By Fennie |
15
March 2021 |
0
Comments
How to Fix iPhone With A Screw - Apple Wallet Payment Failure
Many maintenance staff is not familiar with the iOS wallet. They don't know where to start, how to proceed, feel helpless and even give up the fix straightly. In this article, we are going to show you how to repair an iPhone with a screw, instead it's the real fix process. The actual process is super simple and you won't even expect it to be that easy.

The NFC antenna is more obvious since in most conditions it is marked on the circuit map. Whereas the NFC sub-antenna is less prominent because it is usually not marked. But the wrong installation of it will lead to the payment failure too.

Those iPhone wallet users know that it can be used for public transportation including bus and subway, shopping in supermalls, KFC, McDonald's, Starbucks and other places. Put the NFC of your iPhone near the POS machine and the payment is done. So the iPhone wallet can solve people's problems when they forget to carry the back cards and credit cards with them.

Moreover, the iPhone wallet payment functions faster than any other mobile payment ways. Press the home button twice, or use the face ID, you are able to finish your bill within two seconds. Now, let's take a look at how to fix Apple Wallet payment failure with a screw.

We go to Starbucks and shipping this afternoon, and see if this iPhone 7 wallet works, according to our customer, it is broken. Payment failure with a broken NFC in Starbucks, payment success with a working one in Starbucks. Payment failure with a broken NFC in the supermarket, payment success with a working one in supermarket. We decide to fix it.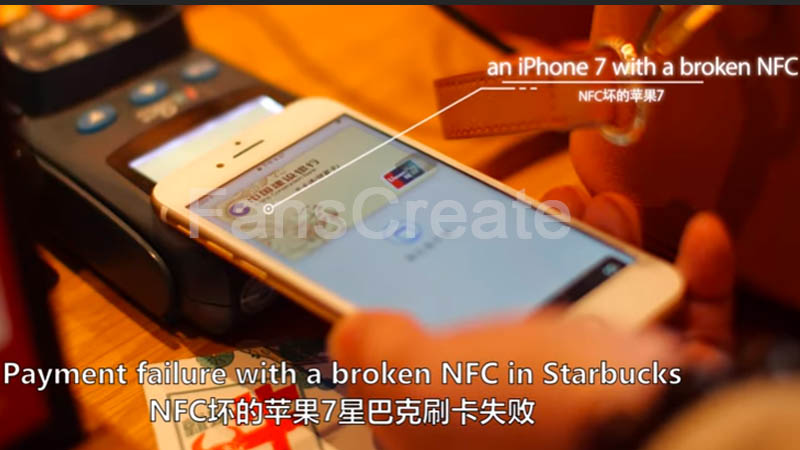 The phone is normal when we restore iOS, but it will be abnormal if NFC went wrong. So it can't be the software issue.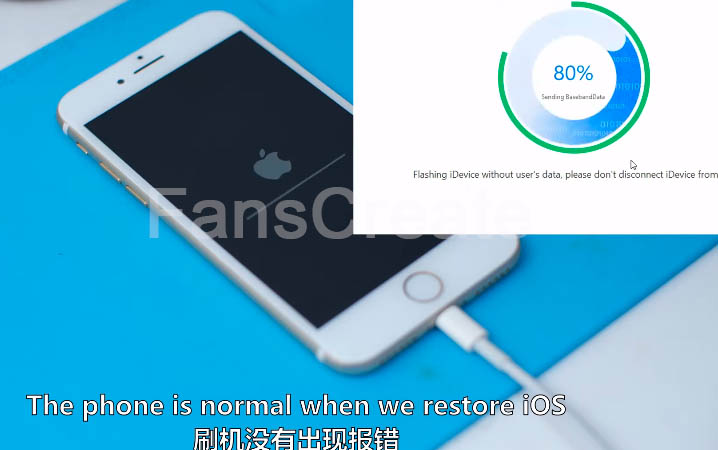 Actually, we can identify the condition of its NFC with a Xiaomi phone. Open the Xiaomi wallet, next, we are going to show you how to do it. Let's make a test. This Xiaomi phone will send a notice to the interface if the iPhone wallet functions normally. And you will know the Apple wallet and NFC aren't working. Otherwise you will not be notified. Through the tests we find that an iPhone 7 with a broken NFC shows no notice when it getting closed to a Xiaomi phone, an iPhone 7 with a sound NFC will pop up a message. So there must be something wrong with the phone itself.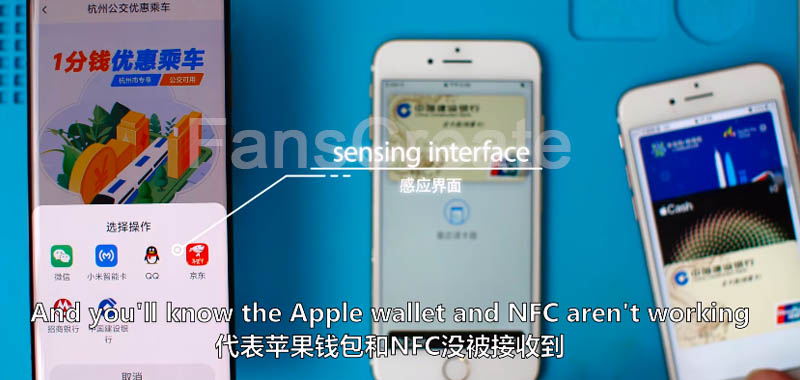 Takedown the phone. Tear off its motherboard. Its outlook is in good condition. Our client said that the wallet would be used before the scale-up. However, it refused to operate after the hard disk expansion. But we all know these two things have nothing to do with each other. Measure the NFC main antenna TP7500_RF and its secondary antenna SGND_RF. They are all OL, these reading are valueless.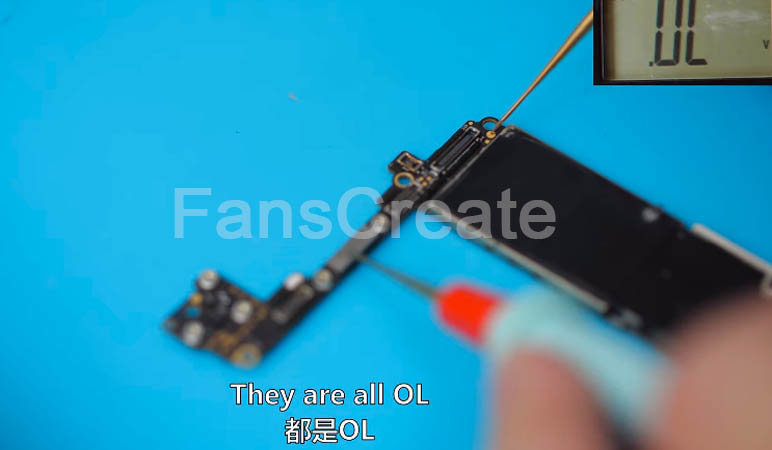 We found that the screw under SGND_RF was not long enough, SGND_RF is the secondary antenna, if it is too short, then SGND_RF will lead to poor contact with the antenna. So the Apple wallet cannot be used. A long one and a short one. Replace it with a longer screw.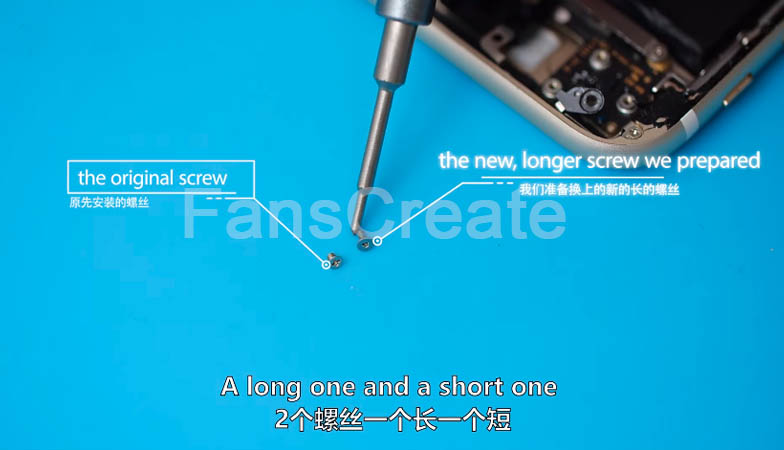 Install the screen, test the phone. Test the iPhone wallet NFC with a Xiaomi 10, test two iPhones wallet NFC with a Xiaomi 10, all perform. So far the problem had been repaired.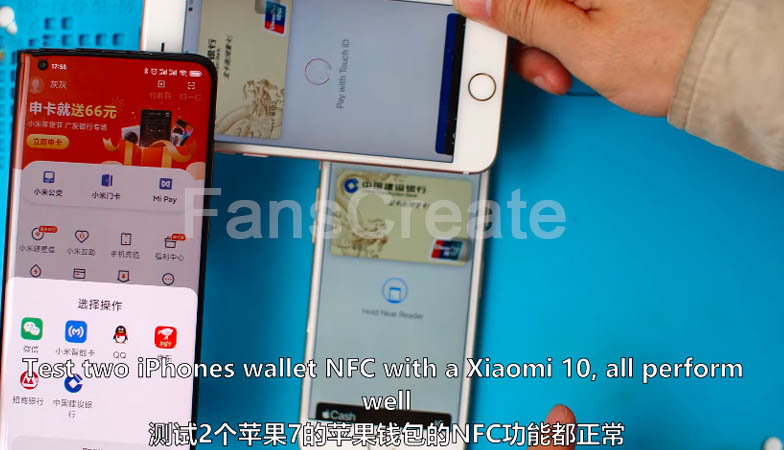 Conclusion
Apple Wallet can be used for mobile payment, e-ticketing, access control, mobile identification, and anti-counterfeiting and other functions through mobile terminals.

Its operation mainly accounts for NPC. which stands for Near Field Communication, and its working range in 10cm. But how do we repair this function when NPC is broken? This article introduces you how to fix the malfunction of Apple Wallet with only a screw.

The main NFC antenna is marked in the circuit diagram, which the NFC sub-antenna is not marked in the circuit diagram. which is more concealed and difficult to find. We need to find out the position of this secondary antenna and twist the long screw to solve this difficult problem.

Tools used:
Repair platform
Screwdriver
Tweezer
Screw
Leave a Reply
Your email address will not be published.Required fields are marked. *