By Fennie |
07
July 2020 |
0
Comments
Latest TBK-958C Automatic Laser Separator Marking Machine
It has been more than one year since laser machine used to fix iPhone back glass. It is so popular and concerned in maintenance industry due to its powerful functions and high efficiency. Recently, FansCreare launched the latest TBK958C automatic laser separator machine. What's new feature about this fresh product and different from other laser machines in market?
In this blog, we will introduce this latest laser machine - TBK 958C automatic laser separator marking machine.

Different from other laser machines in the market, TBK-958C automatic laser machine comes with a built-in operating system that can be directly connected with the mouse and keyboard. So it can work normally without connecting to an external computer, which is not only space-saving but also time-saving. In addition, TBK-958C takes the LCD screen display external, it is easier to operate and set. This is really a user-friendly design! Most important is that once you order this laser machine, and you can get free 12 items as a gift. For new users, we take July promotion - New User Only!
$10 order over $99 all categories
$25 order over $199 all categories
$70 order over $500 all categories

Gift Includes:
1* Automatic positioning mold
1* TBK Holding of mould
1* 400 Pcs Per Bag Coarse Anti-static Glass Wiper
1* Back Cover Glass Glue
1* Manual Dispensing Glue Gun
1* Anti-static Gloves
1* Anti-impact Safety Glasses
1* Stainless Steel Pry Opening Tool
1* LCD Display Screen
1* Wireless keyboard
1* Wireless mouse
1* Metal business card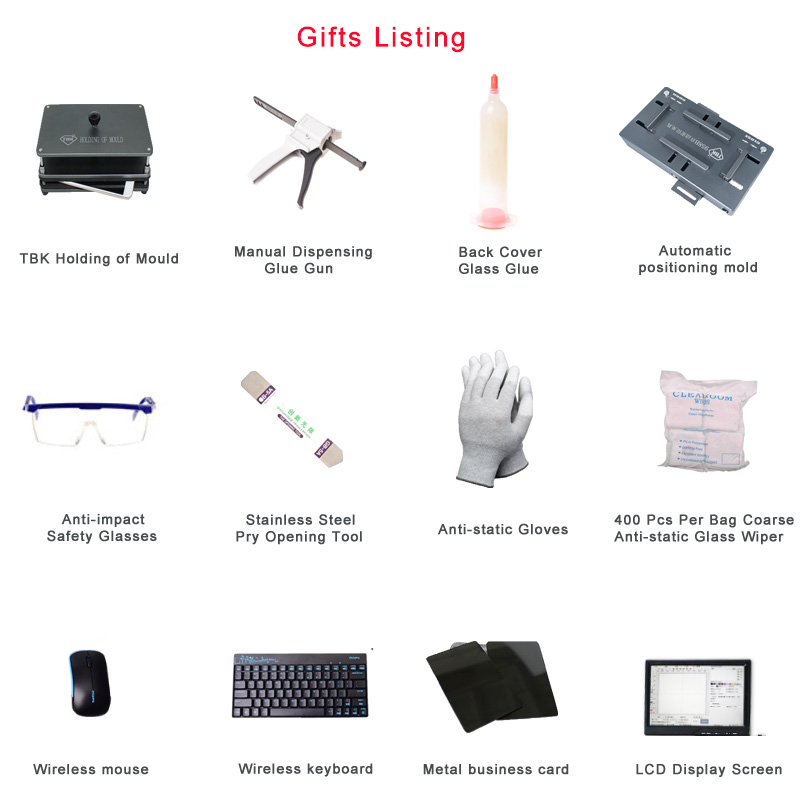 Back Glass Separator Test
Install the automatic positioning mold prior to testing. This automatic positioning mold is specially designed for refurbishing when dealing with phones of the same model. You can complete the focus operation with one-click and skip the repetitive focusing operation afterward, Which can greatly improve the refurbishing efficiency of repair shops. Let's place the iPhone X back housing on the automatic positioning mold first, you can choose any type of model you have. Next, Choose the corresponding drawing and position the automatic positioning mold and then fix it to the machine.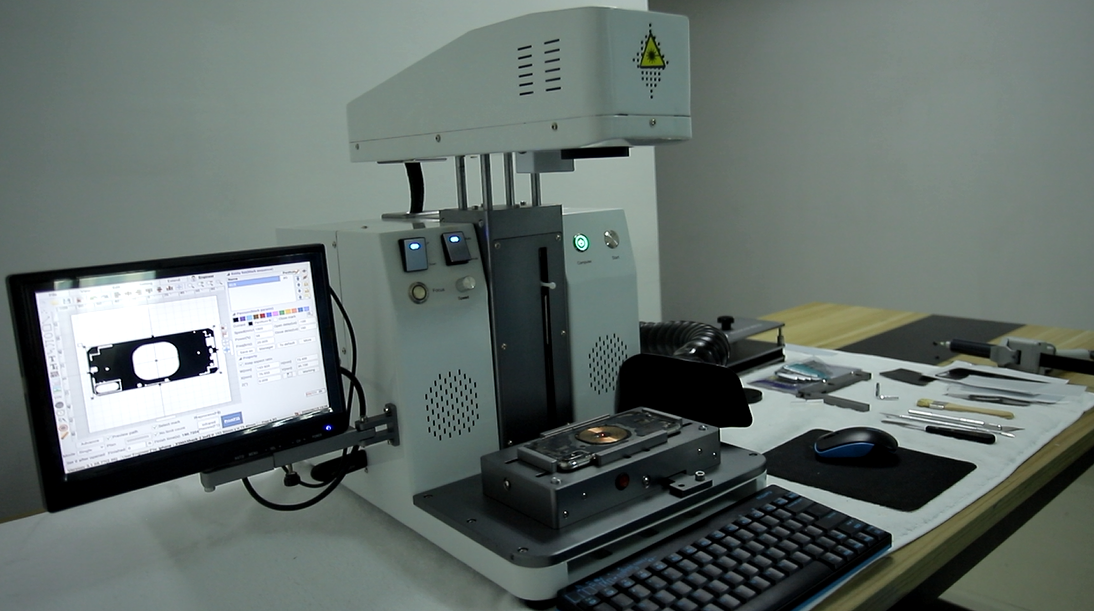 Once confirmed, click 'Print' to scan the back glass with the laser light. Once done, adhesive and print underneath the glass have been pulverized.

Next, let's separate the back glass from the mid-frame. Before separating please wear goggles and anti-cutting gloves. Insert the metal pry piece into the gap between the back glass and the mid-frame to separate the back glass from the mid-frame carefully. Once done, remove residual adhesive with the Laser Machine.

Laser Marking Test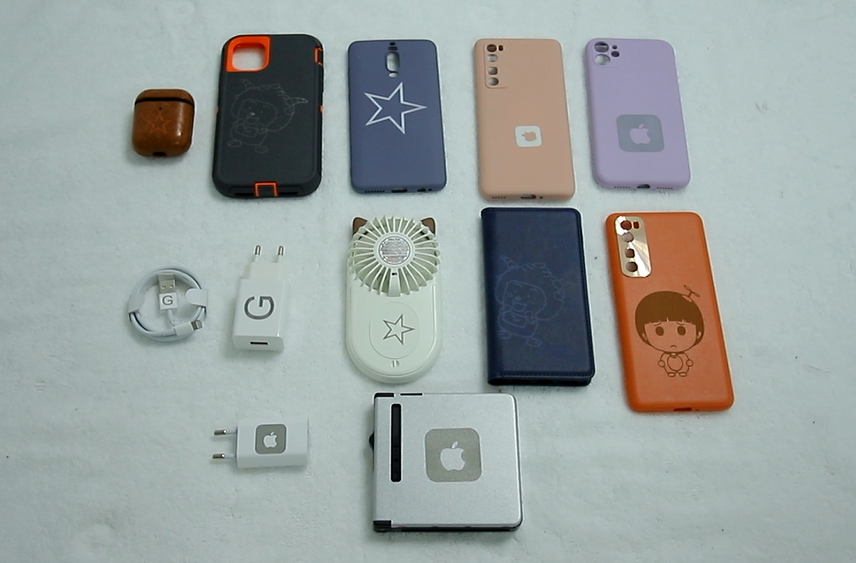 Place the object on the automatic positioning mold. Here we have chosen USB cable, earphone case, leather protective case, mini fan, lighters, metal pieces, and plastic pieces for testing. Press the 'Focus' button and select the corresponding pattern. Then turn on the laser aiming function, to adjust the position of the pattern on the object.

Click to watch the video of Latest TBK-958C Automatic Laser Separator Marking Machine



Fanscreate.com is a professional supplier specializing in providing a range of iPhone parts, iPad parts, Samsung cell phone parts, mobile phone repair tools & parts at best prices and high quality for global cell phone repair shops, distributors and DIY. If you are interested in our products please go to our online shop to order, feel free to contact us at sales@fanscreate.com.

Leave a Reply
Your email address will not be published.Required fields are marked. *