By Fennie |
24
July 2020 |
0
Comments
Top 5 Best Soldering Station In 2020
Compared to soldering iron, soldering station comes with better temperature control. In addition, soldering stations can be adjusted to various temperature unlike soldering iron which is one-temperature fits all. Not matter you are a professional or hobbyist, it is easy to complete soldering tasks with soldering stations.

When it comes to selecting the right soldering stations, you may found there are so many different manufacturers and models available in the market. To pick out a soldering station, FansCreate advises you guys to consider these elements. wattage, plug, and heating rate heating time. Check out the Top 5 Best Soldering Stations that are in great demand now!

SUGON T26 Soldering Station Lead-free Welding Soldering Iron
SUGON T26 Precision Lead-free Soldering Station, Rapid Heating 80W just 2 seconds. Temporary warming humanized design, convenient for the use of maintenance personnel, Innovative design, high-quality guarantee, The precision iron head can be used with JBC 210 handle.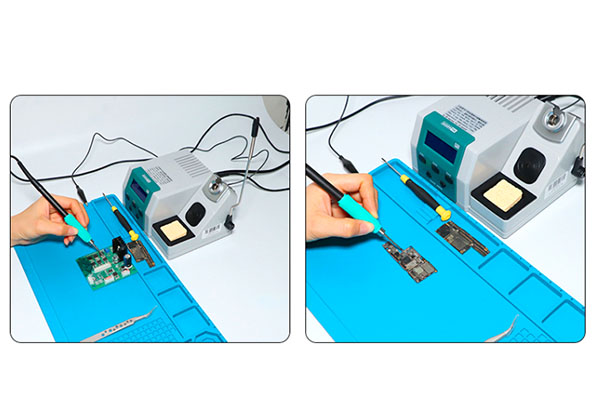 Features:
● Three memory channels are CH1, CH2, CH3, and the temperature of each channel can be set separately for storage and recall.
● Easy real-time operation, it immediately into sleep mode when the handle is placed on holder.
● The single-chip microcomputer control system can make the temperature of the soldering iron head rise rapidly, which means that the user can operate at a lower temperature and improve the soldering quality and working efficiency. When the soldering iron is in the sleep state, can prolong the life time of heating element.

Specification:
● Model: SU GON T26
● Power Consumption: 80W
● Input Voltage: AC 110V / AC 220V
● Output Voltage: 16V+16V
● Range of Temperature: Decide by working mode(200℃-500℃)
● Max Ambient Temperature: 40℃
● Temperature Stability: ±2℃/Without air flow and no load
● Tip to Ground Resistance: <1Ω(DC)
● Tip to Ground Potential: <25mV(True RMS)

Toor T12-11 Lead-free Intelligent Digital Soldering Station
The lead-free intelligent digital soldering station - T12-11 temperature rising from 0 to 350℃ only needs 3 seconds for heating and has a fast speed of temperature recovery. It is can be used for IC cleaning, Bonding Pad Cleaning, jumping wires and Touch ID repair.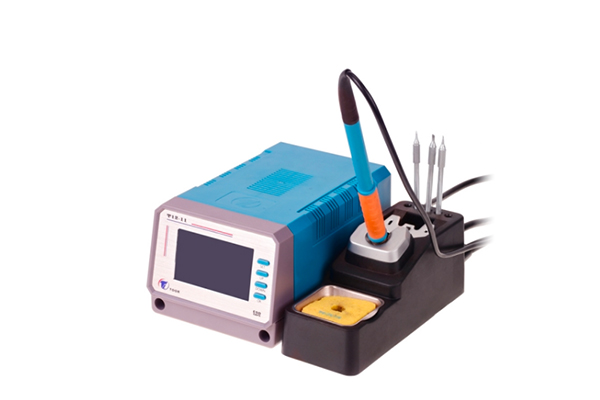 Features
● The welding speed is improved, and the production efficiency is improved 30%-50%.
● Lower temperature welding, below 50-100 ℃ than other welding tools, it is not easy to burn the bad components and circuit boards.
● Intelligent sleep function. its temperature could automatically reduce to 150℃. Energy-saving 30%-70%, don't need to add tin to protect solder.

Specifications
● Standard Power: 75W
● Maximum Power: 160W
● Heating Time: 3 Seconds
● Output Voltage: DC 24V
● Size: 18*11.5*9mm (L*W*H)
● Input voltage: 230V/110V 50HZ
● Temperature Range: 100-400℃
● Support Language: English, Chinese.
● Dormant Power Consumption: 0.1W

JABE UD-1200 Soldering Station
UD-1200 intelligent lead-free digital welding table adopts a unique dual-channel power supply heating system. Using the originally imported chip of the United States, it has a powerful central processing system. When welding, the host can automatically adjust the output power according to the size of the welding point and components and match the welding temperature. With temperature calibration function, password lock function, time statistics function, display light switch function. The performance surpasses the same kind of products, leads the world, becomes the new standard bar of lead-free welding process.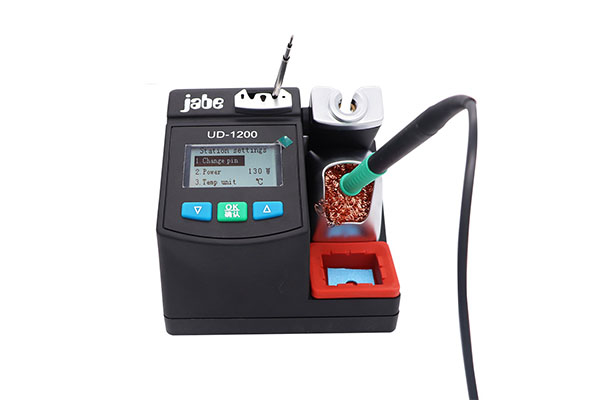 Specifications
● Model: UD-1200
● Power Consumption: 130W
● Input Voltage: 110V / 220V
● Output Voltage: 16V+16V
● Range of Temperature: Decide by working mode(50℃-520℃)
● Sharp or curved tip series, recommend the customer use a temperature of 350-380 ℃, and adjust the compensation temperature to plus or minus 10 degrees".In this way, the iron head will be durable.
● Max Ambient Temperature: 40℃
● Temperature Stability: ±2℃/Without air flow and no load
● Tip to Ground Resistance: <2Ω(DC)
● Tip to Ground Potential: <2mV(True RMS)

JBC NASE 2C NANO Precision Soldering Reworking Station
The precision rework station is the best solution soldering and rework of small-sized components which requiring the highest precision, including 0402, 0201 and 01005. It works with the most efficient soldering system and the intelligent hibernation mode.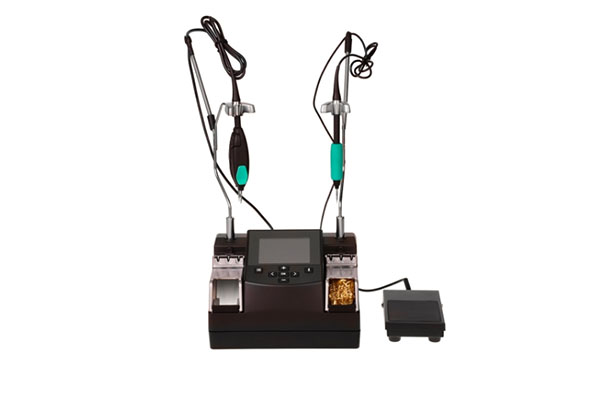 Features
● The precision rework station with more than 10 parameters to customize the control unit.
● The precision rework station's pedal is used to control the tools. It allows using tweezers for soldering.
● The precision rework station's handle with a soft grip for comfortable usage and to prevent fingers from sliding.
● The precision rework station's tweezers are the smallest adjustable tweezers, providing high precision while soldering and reworking surface mount components.
● The precision rework station comes with a handle and adjustable tweezers. The short distance from the tip to the handle offers maximum control even when using a microscope.
● The precision rework station with the new temperature dynamic profiles functionality. It is possible to reliably rework MLCC capacitors as small as 008004 and other thermal shock sensitive components individually eliminating the risk of disturbing nearby components.

Specifications
● Size: 170*90*135mm (L*W*H)
● Peak Power: 14W per tool - 8.5V
● Tip to ground resistance:< 2 ohms
● Tip to ground voltage: < 2 mV RMS
● USB-B (rear): Software PC / Traceability
● Equipotential bonding: Optional connection to EPA
● Selectable Temperature: 90 to 450 ºC / 190 to 840 ºF
● Ambient operating temperature:10 to 50 ºC / 50 to 120 ºF
● Robot: RS-232 remote control or Smart Fume Extractor connection.
● USB-A (front): Firmware update Soldering Graphics management

QUICK TS1100 Digital Soldering Iron Rework Station
This Quick soldering station has a heating element with a maximum power of 90 Watt. The station has an LCD display and simple buttons to digitally set the temperature with ease. The temperature is measured by a sensor in the top of the heating core and can be read in real time from the LCD display. In addition, it is possible to program three operating modes that can be used to quickly switch between different temperature points. These temperature settings can optionally be password protected.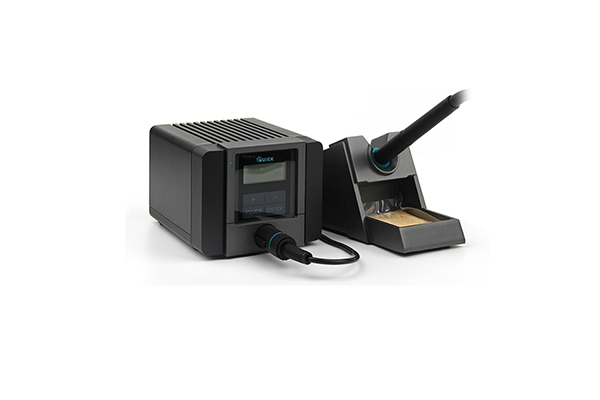 The station has a temperature overrun alarm and a real-time ESD ground check function that guarantees electrostatic protection for the welding products. A programmable sleep and automatic shutdown function are also available.

Features
● Preheat temperature: Fast switching 3 different temperature points, Meet different welding requirements of different products.
● Intelligent Power: With the change in the size of solder joints and intelligent distribution of output power, the maximum power of 70W
● Touch the instant hibernation function.
● Automatic shutdown function, reduce the cost of supplies, saving energy.
● Automatically identify the design, when the handle and the host do not match the alarm prompt.
● Touch button shapes beautiful, waterproof moisture, easy to operate, long life.
● Sensor placed at the top of the heating core, speed heating, temperature control accuracy.
● Fahrenheit / Celsius two standard temperature mode free switch.
● With real-time monitoring of ESD grounding check function to ensure the safety of welding products electrostatic protection
● password lock function, effectively protect the production process parameters are not free to modify.
● More intimate security design, response to sudden power failure, without confirmation will not self-heating, to ensure safety.

Specification
● Power: 90W
● Heating principle: Resistive
● Operating Voltage: 110V / 220VAC
● Temperature range: 200 ~ 450 °
● Temperature stability: 土 2 °
● Welding nozzle to ground resistance: <2 Q
● Ground potential of welding tip: <2mV
● Weight: 2.3kg
● Dimensions: 113 (W) * 150 (D) * 9 2mm (H)
● Model of handle: TSS30A
● Welding nozzle model: 960
● Welding nozzle/heating core: Split

For more soldering rework stations, soldering iron and soldering consumables please go to FansCreate online shop. Great price and high-quality products are waiting for you. Any questions and demands please feel free to contact sales@fanscreate.com.
Leave a Reply
Your email address will not be published.Required fields are marked. *